Introducing Ship Dynamix –
A modern solutions partnership for small-to-mid-sized shippers that works to secure the best rate and a carrier network that delivers products safely and securely.
Over the past eleven years, Dynamic Logistix has served the small-to-midsized logistics market, and due to this market's continued growth, we are expanding! Introducing Ship Dynamix (SDX) – a business entity of Dynamic Logistix specifically established to offer broker services and solutions. 
Sound familiar? It's what we've always been doing for a large volume of our customers. But in order to provide pointed freight solutions and cost-savings for small-to-mid sized shippers, Ship Dynamix allows us to ceaselessly work to positively impact our partner's bottom line. Our focus will continue to be providing excellence in customer service on a load-by-load and location-by-location need.
SDX Key Features
SDX was formally established with the belief that all shippers and carriers should have access to logistics management solutions that help lower costs, save money and improve time management at every single touch point in your supply chain.
Real-time Visibility
All loads are tracked via cell phone, ELD or trailer tracking devices. Login and see exactly where your load is at all times and follow it the entire journey through.
Reduced Freight Spend
After conducting a free freight spend analysis, we'll identify lanes that will provide cost savings for you. All we ask is that SDX manages those lanes as long as our service meets (or even exceeds) your expectations.
Fraud Prevention
Our automated system monitors carriers Operating Authority, Safety Scores, Validates Insurance, and monitors FreightGuard Reports every 24 hours. If anything changes and drops below SDX's threshold or performance, the carrier is automatically deactivated in our system until a Sr Manager reviews the carrier's account.
Automated Reporting
Partners receive automated Business Intelligence reporting specific to your freight and shipping needs. Reporting is updated every 24 hours and is accessible at the click of a button.
No Contracts
All that is included in our Dynamic Shipping Program is a free value add as long as SDX continues to be the sole transportation provider on the lane/s we provide reduced cost on.
What does this mean for our partner and carriers?
Realistically, our current partners and carriers aren't going to see many changes – aside from the new name and the bold green colors on all of our communications.
Operations will not change at all – communication through email and by phone remains the exact same way with the same designated account manager.  Customers can expect to receive the same stellar customer service and unparalleled access to technology and industry they always have.
We're looking forward to continuing to offer the same level of service and expertise our partners have come to expect – we're just expanding our solutions and using a different name.
Check out our new website shipdynamix.com. If you have additional questions, please reach out to our team at info@shipdnamix.com.
More from Dynamic Logistix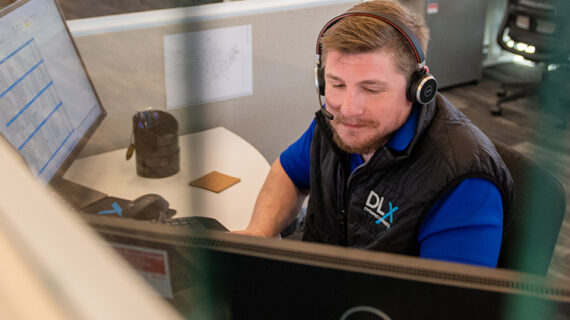 In 2022, automation is embedded in nearly every business' vocabulary. Whether it's improving workflow, lowering costs, reducing risk, generating and analyzing insights, or improving efficiencies, data shows that on an organizational level, automation can dramatically improve productivity in several ways and the benefits are well documented.
Read More »